686 is much more of a snowboarding-focused brand than a ski brand. The company doesn't specifically market or cater to skiers, but it makes high-quality winter and outdoor clothing that can be used for either snowsport.
My name is Christine, and I'm a lifelong skier with an avid passion for the sport. I've used many brands of skis and equipment over the years and have first-hand experience with some 686 clothing and outerwear.
This post will explore the brand 686. I'll show you why this is more of a snowboarding brand than a ski brand while also highlighting some reasons why the company kind of sits in the middle ground.
Let's get to it.
Key Takeaways
686 is more of a snowboarding brand than a skiing brand. The company was created to cater to snowboarders, but skiers can still use its products.
686 mainly makes snowboarding outerwear like jackets and pants. But since there isn't any technical difference between snowboarding and ski clothing, this outerwear can be worn by anyone on the slopes.
The outerwear that 686 makes is high-quality and durable, making it a good choice for anyone looking for suitable garments to wear on the mountain.
Is 686 a Good Ski Brand?
686 isn't really a ski brand at all, and it was initially created for snowboarders. But since the company is an outerwear brand, its products can be used by skiers and snowboarders alike. And it has a good reputation for delivering high-quality options built for performance.
There are definitely differences when you think about skiing and snowboarding compared to one another. But there are also plenty of similarities, and the differences between the two have been getting smaller over the years, as far as clothing options go anyways.
Even though 686 markets its products more for snowboarders, the jackets, pants, and other apparel the brand makes work just as well for skiers. And some skiers really like the style and performance of 686, so they choose to wear them on the mountain.
I've used a few 686 jackets and pants over the years, and I'm a skier. I liked how these products fit and felt, and they always held up well in all sorts of conditions. This makes me believe that 686 is a solid brand, regardless of your preferred winter sport.
686 Clothing
In addition to winter outerwear, 686 also makes some awesome clothing. You can find everything from flannels and light jackets to bottoms and accessories from the brand. And all of this is built with snowsports style in mind.
If you want to rep that snow lover look all season long, 686 gear will help you do just that. The brand puts out new options every season, and a lot of them look great and can add a lot of style and function to your wardrobe.
I also like how functional 686 clothing is. It looks great, which is always a bonus, but this clothing is built to last and handle outdoor conditions as well. You don't need to be delicate if you wear it in rough weather.
686 Snowboard Jacket
686 is probably best known for its snowboarding jackets. The company has various models to choose from and updates its items every season. But each model is built to handle the rigors of winter weather to keep you warm, comfortable, and looking good.
One of the most popular 686 snowboard jackets is the SMARTY 3-in-1. This is an excellent jacket made from Gore-Tex and other high-end features that keep you going strong in any weather. It's expensive but definitely worth the money.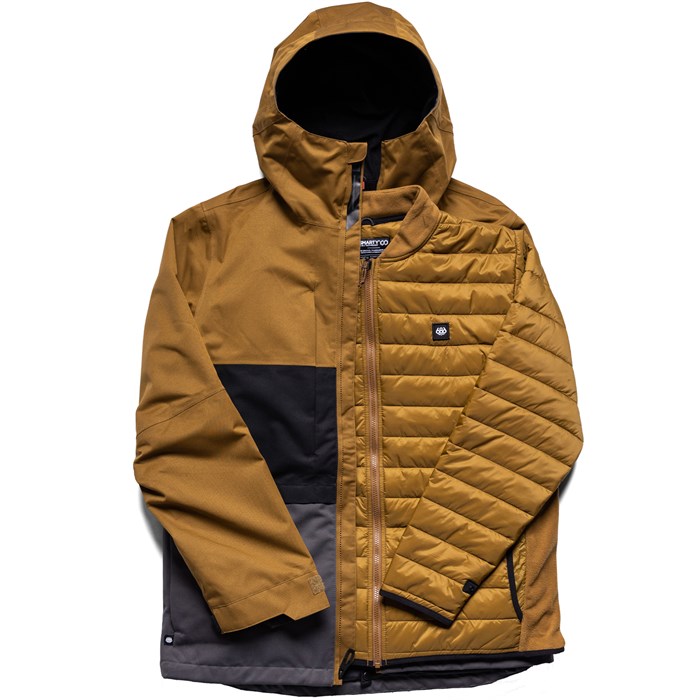 All the jackets that 686 makes can be used for skiing and snowboarding, even though the brand markets them as snowboarding jackets.
FAQs
Here are a few quick answers to some of the most commonly asked questions relating to 686 as a brand.
Is 686 a ski or snowboard brand?
686 is more of a snowboard brand than a ski brand. The company was originally created as a snowboard apparel and outerwear brand. But some skiers like to use 686 gear as well, and it works just as well for them as it does for snowboarders.
What does 686 brand stand for?
686 was created by Mike West in 1986, which is part of how the brand name came to be. The numbers also add up to 20, which is how old West was when he started the brand. It doesn't seem to have that much more meaning or stand for anything in particular.
Is 686 a good jacket?
686 makes some great winter jackets that can be used by skiers or snowboarders. The brand delivers high-quality options that will keep you warm and dry in the mountains and also has a wide selection of garments to meet various needs.
Final Thoughts
686 is technically more of a snowboard brand than a ski brand, but it makes high-quality jackets and other winter outerwear that skiers and snowboarders can wear. The brand delivers in quality, performance, and style and has been for years.
686 also makes some cool clothing worth checking out, no matter which winter sport you like the most. Its products look great on the slopes or the streets, and numerous options exist to meet the needs of just about anyone.
Have you ever used a 686 jacket for skiing? What model did you choose, and what did you think? Let me know in the comments below.