Faction is a somewhat new ski brand, but it still has a solid reputation for creating quality skis that are a lot of fun to use. The brand is known for designing innovative freestyle and park skis but also has reliable all-mountain options.
I'm Christine, the founder of this blog and an avid skier. I've been on the slopes nearly my entire life and have used many different ski brands over the years. I know through first-hand experience how Faction skis hold up.
This post will take a look at Faction as a ski brand. I'll tell you why I think this is a brand worth considering and provide you with some other important information related to it. My goal is to help you make an informed purchasing decision.
Time to get started.
Key Takeaways
Faction is a quality ski brand focusing on freestyle and terrain park ski models. It also offers all-mountain options that work well for many types of skiers.
Faction skis are known for being very playful, and the company always seems innovative in its design approach. This makes its models popular with freeskiers and others who like to stay creative on the mountain.
Faction skis are typically pretty soft, and some issues have been reported with them breaking. While this is possible, it doesn't happen often, and the company will replace your skis if they break.
Is Faction a Good Ski Brand?
Faction is not a huge or extremely well-known ski brand, but the company still designs and manufactures quality skis. It's known for focusing on freestyle and terrain park models, so it is a good option to explore if you like this type of skiing.
One of the main reasons people like to use Faction skis is because they are very playful and fun. This comes in helpful when you want to stay in the terrain park or focus on doing tricks and aerials all over the mountain.
The brand is also committed to constant innovation, which means the skis it puts out always feature cutting-edge designs and construction. The result is continuous improvement you can see and feel if you ski in them.
There are also some good all-mountain ski models from Faction, which are still playful and fun to be on. They aren't as good in really challenging terrain because they are too soft, but that keeps them on the playful side.
The only real downside of using Faction skis is that there have been some reports of the skis not being super durable. This is somewhat expected from a softer ski but is something you should consider if you ski really hard.
Faction Skis
Faction has a few top-model skis that are worth looking into if the brand sounds appealing. As I mentioned earlier, nearly all of the skis the brand puts out are very playful, so you can expect a fun experience with any of them.
Faction Dictator
The Faction Dictator 2.0 is one of the current top models from the brand. This is a very fun and exciting ski to use, and it really personifies what the brand is all about. It performs well by staying super responsive even while maintaining a playful nature.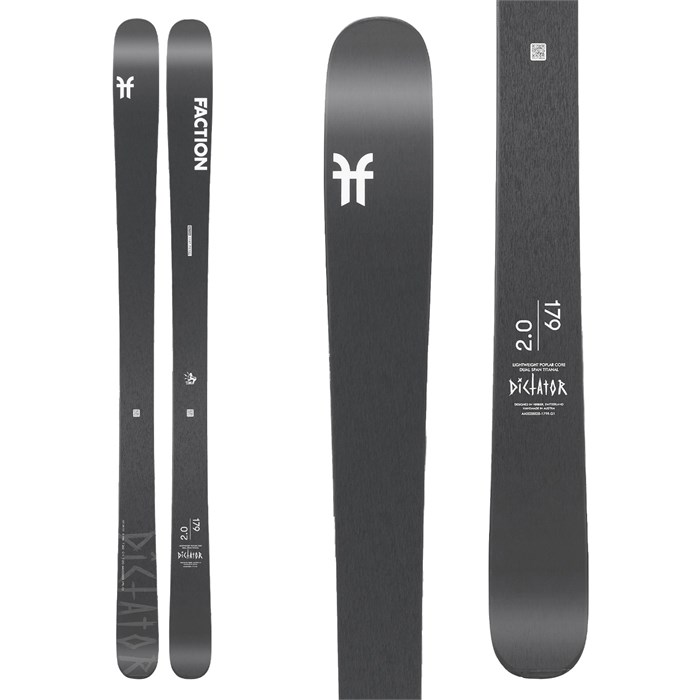 This playfulness and responsiveness are useful when you want to crush lines all over the mountain, and it's an easy ski to turn in nearly every type of condition or terrain.
Faction Prodigy
The Faction Prodigy (2.0, 3.0) is another model worth checking out, and it's an awesome all-mountain option that can rip all over the resort. It has a playful directional shape but maintains enough power to help you bust through crud or other conditions.
The Prodigy is still on the soft side, so it's not necessarily the best in crudded-out big mountain conditions. But in softer snow, the skis really shine.
FAQs
Here are a few quick answers to some of the most commonly asked questions related to Faction skis.
What are Faction skis known for?
Faction skis are known for being very fun and playful to ski on. This makes them popular in the terrain park and other freestyle situations. Their skis are usually soft, giving them a good flex that is ideal for new tricks or hitting features in the park.
Do Faction skis break easily?
There are numerous reports of Faction skis breaking during regular use. While this isn't a common occurrence, it does happen and is a risk you take with using a softer ski and going big in the terrain park. Faction is pretty good about replacing skis that break.
What company makes Faction skis?
Faction skis are made by the Faction Collective, which is a ski company based in Switzerland. The company has been around for a while and continues to develop innovative ski models that skiers all over the world like to use.
Final Thoughts
Faction is a solid ski brand that is worth checking out if you are looking for skis that are playful and fun in a variety of conditions. Most of the brand's models are freestyle focused, but it also has a few all-mountain options.
Have you ever used Faction skis? What model did you choose, and how did they feel? Let me know in the comments below.