The sport of skiing has come a long way over the last several decades. New technologies and advancements in ski design have revolutionized the shape and abilities of skis to match individual preferences in regard to ability and style. As such, the options available to skiers today are far and above what was out there for earlier generations.
One such advancement is the focus on women-specific skis. While skis, in general, don't truly have gender, women's skis are designed with special shape and size considerations in mind.
This article will take a look at some of the best women's skis currently available across several styles and parameters in the women's ski market.
Who Should Get This
Women's skis are obviously designed for women skiers. All of the options listed here are fully designed and engineered to meet the needs and demands of females who like to hit the slopes.
While the skis themselves may look similar to other models in shape and design, there are differences with each manufacturer that make these skis slightly better suited for women.
That being said, you definitely don't have to get a women's specific ski. At the end of the day, skis are skis. They are not specific to gender in a way that makes them unusable. Women skiers can easily ski on skis that are not women-specific, and men can ski on women's skis. It really comes down to how you like to ski and what works best for you.
Top Picks of Best Women's Skis
Here, you'll see a list of my top recommendations along with a quick review of each ski. The goal is to help you get to know the pros and cons of each product so you can make a more informed purchase decision.
1. Best All-Around: Nordica Santa Ana
The Nordica Santa Ana is one of the best all-around women's skis. The shape and design make it capable and versatile in a way that allows you to tackle everything from deep powder to hard-pack groomers without missing a beat. This ski is reliable, efficient, and comes in several widths and sizes to match the size and abilities of the skier.
These skis feature a lightweight balsa and beech wood core that makes them soft and playful. However, they are also sturdy enough to handle big mountain conditions.
They have a great rockered profile that makes them versatile with the ability to float on top of deep snow and maneuver easily. A slight camber underfoot keeps the skis stable at high speeds and adds to their versatility.
Pros:
One of the best women's skis
Multiple sizes available
Versatile
Lightweight-but-strong
Great turning radius
Cons:
Slight chatter at high speeds
Not for beginner skiers
==> You can also get it on Evo or Hansen Surfboards or Moosejaw.
2. Runner-up: Icelantic Maiden
Icelantic makes some of the best and most versatile skis around, and their women's specific Maiden is another great all-around model.
Durable and extremely strong, these skis are built to handle anything that comes your way on the mountain while offering excellent performance in just about any condition. They have a nearly symmetrical shape that makes them very playful as well.
The Maiden is a great all-mountain freeride ski that Icelantic modeled after its popular Nomad design. It features a fly-weight core that makes the ski light and stable while also being extremely strong with plenty of flex. The core is made of poplar and paulownia wood and the shape/construction makes them quite fun under any condition.
Pros:
Versatile
Fly-weight core
Durable
Fun to ski
Great all-around performance
Cons:
Not many. A solid all-over-the-mountain type of ski
==> You can also get it on Evo or Curated or Backcountry.
3. Best for Powder: Blizzard Sheeva
If you live for powder and find yourself chasing storms during the winter, you will want a ski that can live up to the demands of deep snow. The Blizzard Sheeva is an awesome option for a women's powder ski.
These skis have the shape and width you want to float and cut through powder while also being very playful and responsive. They also work as a powder-focused option if you want to take the skis inbounds.
Built with a light core construction that features a blend of four different types of wood, these skis are sturdy-but-flexible and able to handle deep and demanding conditions with ease. They also have a fun and playful feel, and feature a Titanal metal layer underneath the binding that provides strength without increasing their weight.
Pros:
Great women's powder ski
Powder-focused yet still versatile
Lightweight for a powder ski
Strong
Playful feel
Cons:
Better suited in deep snow
Can be chatty at high speeds
==> You can also get it on Evo or Skis or Buckman's.
4. Best All-Mountain: Black Crows Camox Birdie
Another great women's ski that does well in a variety of conditions, the Black Crows Camox Birdie makes for a great all-mountain option. This is your best choice if you want the ability to ski any condition, anytime, anywhere on the mountain.
They have the ability to float and cruise on top of the powder, but can also hard charge through crud and cruise on groomers. A solid choice in terms of versatility and reliability.
These skis have a double rockered profile with an upward turned tip and tail that makes them easy to maneuver. They have a great turning radius and offer a desirable float on powder.
A classic camber adds to the versatility and works with the rockered profile to make these solid in just about any situation. They have a nice poplar wood core that offers plenty of flex as well.
Pros:
Versatile
Great rockered tip and tail combined with classic camber
Fun to ski
Easy to handle
Cons:
Great all-around but not perfect at any one style
Can be too narrow for deep powder
==> You can get it on Evo or Equipe Sport or Outdoor Gear Exchange.
5. Best for Touring: Icelantic Mystic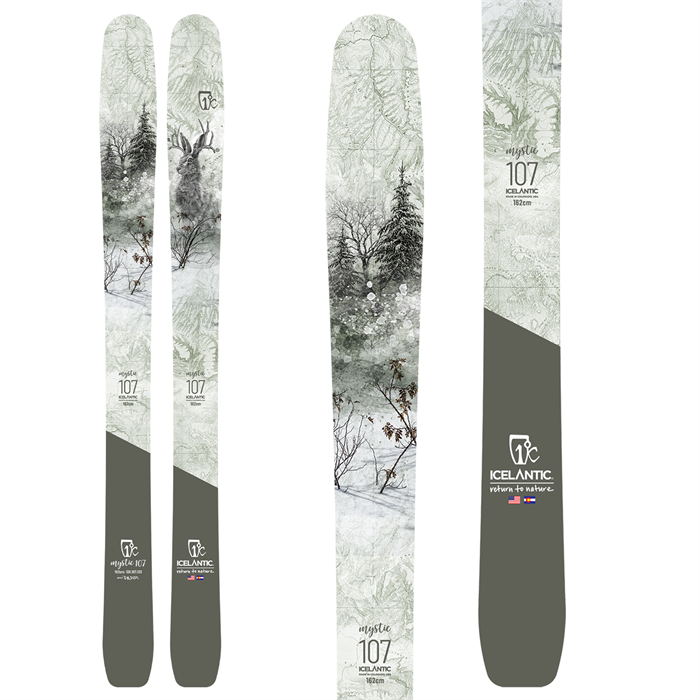 For a great women's-specific touring ski, look no further than the Icelantic Mystic. This Colorado-based company has been offering reliable and 'bomb-proof' choices to skiers around the world for well over a decade and their reputation for offering diverse and fun-to-ski choices continues.
The Riveter is a women's specific touring ski built for the backcountry and all of the demands the skiing style requires.
The Mystic features 31cm of tip rocker to keep your skis moving both uphill and down. That is then backed by 5mm of camber underfoot that gives the skis a reliable and efficient backcountry feel.
They also feature a feather-weight, paulownia wood core made that offers strength and responsiveness. These skis excel in the backcountry and also come with a great 3-year warranty.
Pros:
Excellent backcountry performance
3-year warranty
Nice profile
Unique graphics
Durable
Lightweight
Cons:
Not built for resort skiing
==> You can also get it on Evo or MEC or Backcountry.
6. Best for Backcountry: Elan Ripstick 94
Another option that can do well in the backcountry but is also versatile enough to handle a variety of other conditions, take a look at the Elan Ripstick 94.
These skis have a rockered tip and tail with a slight camber underfoot that makes them versatile and effective across any skiing situation you might encounter in the backcountry and beyond. This leads to a shape that offers efficient turns and the ability to charge hard at high speeds.
The skis feature a unique construction with a TubeLight Woodcore that utilizes two carbon tubes alongside the wood core to offer strength, flexibility, and a lightweight, playful feel.
There is also a lightweight composite material used in the tips to further lessen the weight and increase both maneuverability and versatility on the mountain. If you want a reliable ski that can do a little bit of everything, the Ripstick is for you.
Pros:
Great versatility
Work for both backcountry and inbounds
Unique TubeLight construction
Lightweight
Easy to maneuver
Responsive at high speeds
Cons:
Heavier for backcountry use
==> You can also get it on Evo or Buckman's or Utah Ski Gear.
7. Best for Advanced Skiers: Volkl Secret
Volkl is well-known for its rugged and reliable skis that are able to withstand rigorous use. The Volkl Secret women's specific skis hold up to this reputation and go beyond the normal standard.
These skis are intended for those with advanced abilities and are a high-performance option that will allow you to tackle any and every condition that comes your way.
The skis feature a Titanal frame that uses metal along the edges of the tip and tail to add stiffness and stability. That is then further amplified by the added carbon in the tip that provides strength and reduces overall weight.
The skis also feature a slight sidecut that increases their versatility and allows you to turn and carve with ease even in the most extreme big-mountain conditions.
Pros:
High performing, hard-charging women's ski
Strong
Titanal frame
Carbon tips
Versatile
Responsive
Cons:
Too much for beginners
Heavy
==> You can also get it on Equipe Sport or Evo.
8. Best Versatile: Fischer My Ranger 102
The Fischer My Ranger 102 is a versatile option that's built to meet the needs of any female skier. This is a stable, reliable option that will hold up in many different situations. These skis combine the benefits of decent flex with solid stability, which enables them versatility similar models lack.
The My Ranger 102s have a more traditional profile with a good camber underfoot. That makes them responsive at high speeds and on hardpack, but keeps them wide enough to float on deep powder.
They feature a poplar and beech wood core that gives them decent flex, while the ABS sidewalls increase performance and ensure fantastic edge control.
Pros:
Extremely versatile
Classic camber
Excellent response at high speed
High performance in varying conditions
Cons:
==> You can also get it on Evo or Jans or Outdoor Gear Exchange.
How to Choose the Best Women's Skis
Not sure how to narrow down the choices from the crowd? Take the factors below into account during your ski research journey.
Width
Width is a common consideration when picking out any ski type, and women's models are no exception. Female-specific skis tend to be a bit narrower than other options. However, women's skis are still available in a variety of different widths. Don't just settle for the first ones you find.
As a general rule, wider skis are better in deeper snow and powder conditions. The increased width will help you stay on top of deep snow and adds a floating feel to the skis. Powder-specific skis will be really wide, while other types of skis intended for all-mountain use will have a moderate width.
Narrower skis are best suited for more inbounds styles of skiing like racing, park, or hard-packed and groomed runs. Less width can translate into more speed, which is ideal for ski racers.
If you plan on sticking to the resort or are just starting to learn how to ski, you will want a narrower ski over a wider one. It comes down to preference and your preferred skiing style.
Length
Also consider length when getting your skis. Generally, more experienced skiers will want to look for a longer ski, while beginners should go for a shorter option.
Longer skis will be faster and they have the ability to hold up at high speeds. The increased surface area, as well as more edge control, means that longer skis are able to meet the needs of advanced skiers.
A shorter ski will inevitably be slower and is better suited for beginner and intermediate skiers. Shorter skis are also easier to maneuver because they have less material and weigh less.
In addition to your ability, the length of your skis should also be decided upon based on your height. Taller skiers will want longer skis and shorter skiers will usually want shorter skis. There is no exact answer to what length of ski you should get, but it should match your abilities and physical traits.
Shape/Profile
In the old days, skis used to be almost completely straight with an upturned tip to keep you above the snow. Ski shape has progressed quite a bit since then, with shaped skis becoming common across the industry thanks to the different advantages they provide.
Almost all of the skis listed here have a symmetrical shape, which means they are narrow in the center with a wider tip and tail. Most are not completely symmetrical, but they are pretty close. That makes them perfect for all-mountain skis that need to perform in a wide range of conditions.
In addition to shape, ski profile is also important. Two terms associated with ski profile are the camber and rocker. Camber is a crescent-like shape that keeps your tip and tail down on the snow while allowing the underfoot area to sit above it. This is a classic shape that's good for more hard-packed and groomed conditions.
Rocker is the upturned shape of the tip and tail sections of the ski that keep it out of the snow. This profile shape is also sometimes known as reverse camber. Rockered profiles are common among many different ski types.
This profile helps a lot in deep powder conditions and makes for a versatile shape. Lots of rocker can make skis chatty and unstable at high speeds because they have less edge contact.
Profile shapes can vary widely from ski to ski. Some skiers have a preference when it comes to shape and profile, while others don't know the difference. If you're unsure which shape or profile works best for you, don't be afraid to ask for advice at your local ski shop.
Useful Tips & Resources
The rise of skiing's popularity in skiing has led to an increased interest in women's skiing. As with many competitive sports, it sometimes takes a while for women to become established. Skiing has fully embraced and encouraged female skiers to pursue the sport to the best of their abilities.
Some of the best skiers in the world are women, and they definitely have all of the abilities and skills of their male counterparts.
If you want to get some tips from some of the best women skiers in the world, check out these suggestions on how to ski from the pros. You might not quite be on the same level as the best women skiers out there, but it's fuel for the fire.
As I touched on earlier in this article, women's specific skis are not all that different than other ski types. They are obviously marketed to women, but that doesn't mean that women have to ski on a women's specific model.
While the differences between what separates a women's ski from any other are subtle, they do exist. Check out this article to get a better feel for these differences and to learn more about them.
Final Thoughts
Getting a nice set of skis that matches your abilities and style is important for any skier. Whether you're getting your first pair of skis or are simply adding another unique set to your quiver, you want to make sure you're equipped with the best available option.
All of the women's specific skis listed here are great choices for different reasons. The tips and reviews listed above will help you narrow down your choice, but it is ultimately up to you.
You can get an all-around performance ski if you're looking for an all-season option, or you might want to get a specific style more catered to backcountry or powder performance.
If you are unsure which option is best, see if you can rent any of the models you're interested in from your local ski shop or at the resort during your next trip. It's always nice to try a ski out before you make a purchase.
Do you have a favorite women's ski? What makes it so great? Let us know in the comments below!