Alpine touring is a fantastic way to reach secret stashes of fresh powder and conquer terrain that other skiers only dream about. But to make this possible, you need to have the right skis to help you venture into the backcountry.
My name is Christine, and I've been skiing for nearly my entire life. I've gone on dozens of ski tours over the years, and I know what to look for in the best alpine touring skis.
The Blizzard Zero G 95 is my pick for the best alpine touring skis of the year. This is a super lightweight option that will help you make long ascents while giving you plenty of downhill performance to take advantage of all your hard work.
I'll list all of the top models for touring in this post. My goal is to give you enough options to find the perfect match for your needs and preferences. Anytime you go into the backcountry, you want to be well prepared.
Let's step in and head uphill.
Who Should Get This?
If you're planning on going on any serious ski touring trips, you need gear that can handle the demands of the backcountry.
All of the skis listed here are designed to take on long ascents and perform well when you ski back down. With an alpine touring ski, you want something strong, reliable, and lightweight.
It is possible to put alpine touring style bindings on other types of skis. If you only plan on going on short tours or just want the option to do a little backcountry skiing, you could use an all-mountain ski.
If you plan on skiing more than a few times a year or going deep into the backcountry, you'll want a dedicated alpine touring setup.
Can any skis be used for alpine touring?
Technically you can mount touring bindings on any type of ski. But models built specifically for alpine touring will give you much better performance because of their lighter weight and ability to perform uphill and down.
How long should alpine touring skis be?
This depends on your ability level and preferences. But a general rule is that your touring skis should be a little shorter than your regular alpine skis. This cuts down weight without sacrificing much performance.
What's a good weight for touring skis?
Most skis built for touring will weigh in between 5.5 and 6.5 pounds. Heavier than that, and you'll start to notice difficulties with uphill ascents. There are a few lighter options out there, but I haven't seen any less than 5 pounds.
What is the difference between touring and alpine skis?
Touring skis are built with the backcountry in mind and uphill performance in particular. This makes them a lot lighter than regular alpine skis. Touring skis are sometimes less stiff to save on weight as well.
Are powder skis good for touring?
With their wide waist and large size, true powder skis can be a chore to tour with. If you want the best powder performance possible, it's an option. But I suggest going with a model made specifically for touring if you are serious about it.
Best Skis for Alpine Touring: Top Picks
Here are my picks for the best alpine touring skis currently on the market.
1. Blizzard Zero G 95
Best for: Overall
Key features: Lightweight, strong construction, great downhill and uphill performance, solid edge control
Sizes: 157, 174, 171, 178, 185
Ability Level: Beginner to advanced
Cost: $$$
The Blizzard Zero G 95 (review) gets my vote for the best alpine touring skis of the year. This model excels uphill and down and will have you covered in the backcountry.
These skis are built with a lightweight paulownia wood core and also have great flex and torsional rigidity.
That makes them excellent on long uphill treks and gives them the response and control needed for untouched lines.
The Blizzard Zero G 95 is playful yet still powerful, and their shape makes them versatile enough to handle anything that comes your way when touring.
They aren't the widest ski for deep powder but hold up well in the backcountry regardless.
2. Icelantic Nomad Lite 105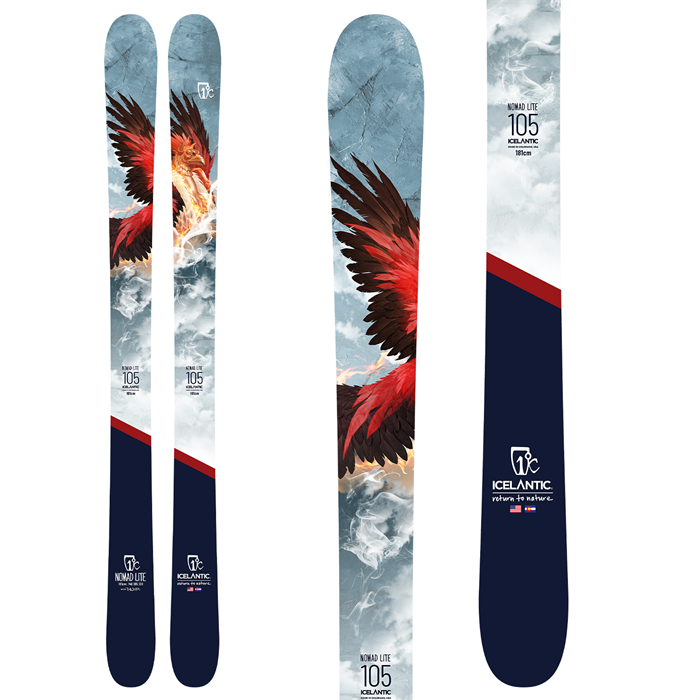 Best for: Beginners
Key features: Lightweight, versatile, bombproof construction, steel edges, feather weight wood core
Sizes: 171, 176, 181, 186, 191
Ability Level: Beginner to advanced
Cost: $$$
The Icelantic Nomad Lite 105 (review) is a good option for anyone looking to get their first touring setup. These give you reliable performance in a lightweight package and are fun to ski on.
They come with a hybrid profile shape that gives you enough float to stay on top of deep snow with camber to get power and pop when needed.
The Nomad Lite also features a feather weight wood core made out of Balsa wood to help shed pounds and keep you moving forward in the backcountry.
Icelantic's legendary bombproof construction is another standout feature that adds value to this investment in the long term.
They are a little on the expensive side, but that's really the only downside they have.
Read More: Best Skis for Beginners
3. Icelantic Maiden Lite 101
Best for: Women's Option
Key features: Women's specific build, hybrid rocker, feather weight core, super-strong construction
Sizes: 155, 162, 169
Ability Level: Beginner to advanced
Cost: $$$
If you are looking for a women's specific alpine touring ski, the Icelantic Maiden Lite 101 is the best option around.
These are similar to the Nomad Lite mentioned above, except they have a few design features built specifically for female skiers.
A feather weight wood core sheds precious ounces and makes these more than capable of long uphill ascents.
The Maiden Lite will then give you amazing downhill performance whether you are bombing powder or busting through crud.
The only real complaint I have about these is a somewhat expensive price tag.
Also Read: Best Women's Skis
4. Atomic Backland 95
Best for: Long Tours
Key features: Lightweight, carbon inserts for added control, fun to ski
Sizes: 169, 177, 185
Ability Level: Intermediate to advanced
Cost: $$$
Every alpine tourer can appreciate the Atomic Backland 95, and this one earns my pick for the best option for long tours.
This is another lightweight alpine touring ski designed to be effective on long uphill journeys, but it also provides all of the fun and control you need to enjoy those hard-earned backcountry rewards.
Full-length carbon inserts enhance the downhill characteristics, while a wood core keeps them easy to manage.
This isn't the lightest option on the list, but I still think they are more than capable of delivering everything you want on long tours. The graphics are also pretty plain.
5. Armada Tracer 98
Best for: Versatility
Key features: Versatile, lightweight, EST all-mountain rocker, Caruba core, beveled top edges
Sizes: 164, 172, 180, 188
Ability Level: Beginner to advanced
Cost: $$$
The Armada Tracer 98 is a great alpine touring ski that gives you added versatility if you ever want or need to take them to the resort.
This lightweight option makes getting uphill very easy while still delivering solid downhill performance in variable conditions.
The Tracer 88 comes with an EST all-mountain rocker profile that is key to its versatile performance, and a Caruba wood core helps shed ounces to keep them lightweight.
Beveled edges also reduce weight, while an adaptive mesh laminate reduces vibrations at higher speeds.
These are a little on the heavy side, so they might not be the best choice for super long tours.
How to Choose Alpine Touring Skis
Here are some critical factors to consider when looking for the best alpine touring skis to meet your needs.
Weight
One of the most important things to keep in mind when deciding upon an alpine touring ski is its weight. Since the whole idea behind backcountry and touring skiing styles is spending long periods ascending, you need something you can handle.
Lighter skis, which are easy to traverse uphill with, save time and energy so you can still cruise lines downhill after you make it to the top. All of the skis listed here are lighter than other styles.
Construction
Alpine skis are built to be lightweight. However, they still retain plenty of strength and durability in a way that helps you dive down backcountry lines. That's made possible through lightweight construction that includes materials such as carbon fiber and wood cores.
When looking for an alpine touring ski, be sure to choose one built with such materials.
Width
Your alpine touring skis' width comes down to personal preference. Narrower skis are lighter and easier to manage on long ascents, while wider skis will perform better in deep powder and downhill skiing.
I personally prefer wider skis that will do better in varying conditions, even if that means they are a bit heavier than other options.
Useful Tips for Alpine Touring
Alpine touring is an amazing way to ski. There's nothing quite like working your way up a mountain then being rewarded with untouched lines of fresh powder on the way back down. Anytime you're in the backcountry, you need to be extra careful and as safe as possible.
Check out these tips on how to be safe and prepared in the backcountry before you venture out. It pays to plan ahead and know the potential dangers that could be out there. You should also know how to handle any such risks when they come your way.
If you're new to alpine touring, there are several pieces of equipment you need to know.
The handy contraptions that enable you to ski effectively uphill are called skins. These long pieces of fabric attach to the bottom of your skis and will grip and pull you uphill. Skins are essential for backcountry and alpine touring skiing styles.
Check out this video for more information on touring skins.
Final Verdict
The Blizzard Zero G 95 is my pick for the best alpine touring skis of the year. It is a lightweight option that will give you solid performance going uphill and coming back down the mountain.
If you plan on ski touring, you need to have the proper equipment on your side to make it possible. All of the models you'll see here are great alpine touring options and are recommended.