Downhill skiing is a dream for many. Whether you are searching for untouched fields of fluffy white powder or live for the thrill of skiing at high speeds, downhill skiing provides it all.
There are many different styles of skiing but the majority of people these days love the ease and enjoyment of pointing their skis down a steep slope and going for it.
In order to fully enjoy skiing of any style, you need to be well prepared. While skiers have spent decades getting fresh turns with basic equipment, modern technology has allowed people to further enjoy the discipline.
This article is going to take a look at the best downhill skis currently available to help you chase the next snowstorm in style.
Who Should Get This
Downhill skis are obviously intended for downhill skiing. The width and shape of all the skis listed here are designed to allow skiers to fully handle and enjoy just about everything that can happen while skiing downhill.
If you're looking for a ski that will allow you to float, turn through deep snow with ease, carve hardpack, and hold up well at speeds, the options listed here are for you.
Skill level doesn't come into play all that much with downhill skis. There are some options that are better suited to advanced skiers but beginners and intermediates alike can handle downhill skis.
Downhill skis are fairly diverse in their capabilities so can handle different conditions on the mountain. But if you want a ski dedicated to a specific condition, such as backcountry or powder, you might not want a generic downhill ski option.
Top Picks of Best Downhill Skis
Here is a list of my top recommendations along with a quick review of each ski. The goal is to help you get to know the pros and cons of each product so you can make a more informed purchase decision.
1. Best Overall: Nordica Enforcer Free 110
The Nordica Enforcer Free 110 (review) is one of the best all-around downhill skis you can find. This ski is engineered with the downhill skier in mind.
At 110mm underfoot, it is wide enough to float across even the deepest snow days while also being really playful. The model excels in big mountain and big snow, but can also handle many other lighter conditions.
The Enforcer Free features a balsa wood core construction sandwiched by two lightweight metal sheets. That makes for a strong, durable, and lightweight feel that can float across deep fields of snow and cut through the crud.
This ski also has a high-rise tip and tail rocker that enables it to stay on top of the deep stuff without losing any maneuverability.
Pros:
Awesome all-around downhill ski
All-mountain performance
Nice width at 110mm
Tip and tail rocker
Strong-but-lightweight wood core/metal construction
Cons:
Not the widest downhill ski
Not for beginners
2. Best Lightweight: K2 Mindbender
Another great option for a downhill ski is the K2 Mindbender 116C. K2 is a well known and respected name in the ski game, and this model shows why. These are strong, stiff, and playful, giving you everything you would ever need from a premium downhill ski.
The 90mm width underfoot is perfect for various downhill conditions and the shape lends to an effortless feel when turning.
These skis feature a lightweight core made of both Paulowania and maple wood on top of the brand's unique Torsion Control design. That innovation uses a spiraling braid of carbon along the length of the ski to allow for excellent torsion and flex.
These skis stand out when the snow starts to pile up but a versatile enough to handle anything, making for a solid downhill option.
Pros:
Great downhill ski
Sturdy-but-playful
Torsion Control design
Lightweight core construction
Affordable
Cons:
Nothing. Solid option for advanced skiers
3. Best for Women: Nordica Santa Ana
Women looking for a good downhill ski should check out the Nordica Santa Ana. This model has a classic modern downhill ski shape with a rockered tip and tail that provides a nice turning radius.
On top of that, it offers all of the power and control you need to handle even the deepest days on the mountain. The 90mm waist is wide enough for virtually any condition while not being too big and allows this ski to float and carve fresh lines all day long.
The profile of this ski also stands out in downhill situations with the rocker/camber/rocker shape from tip to tail allowing you can also take these in-bounds and on hardpack without blinking.
They have a lightweight wood core that translates to easy turning, as well as a playful nature that doesn't compromise any of the strength you need when skiing at higher levels.
Pros:
One of the best women's downhill skis
Multiple sizes available
Versatile
Lightweight-but-strong
Great turning radius
Cons:
Slight chatter at high speeds
Not the best choice for serious big-mountain conditions
4. Best Versatile: Icelantic Nomad
A personal favorite and a versatile, playful, and powerful downhill ski is the Icelantic Nomad (review). Icelantic is a Colorado-based company that makes bombproof skis that are strong and playful and come with a great warranty.
The Nomads are one of the most popular models that the brand creates and is one of the most versatile as well. While this ski is plenty wide for powder days, it also holds up in a variety of other conditions and is a solid everyday choice.
These skis feature a Hybrid Flight core that utilizes a wood construction to create a lightweight and poppy ski that is tremendously fun and able to deliver in just about any condition.
The wide profile underfoot complemented by a wide and rockered tip and tail makes these skis a dream to use on powder days. If you are looking for a fun and reliable ski that you can ski on big powder days and bomb cruisers waiting for snow, the Nomad is for you.
Pros:
Versatile
Sturdy construction
Great width
Extremely fun
Lightweight, easy to maneuver
Cons:
5. Best All-Around: Line Outline
The Line Outline is another excellent all-around downhill ski. This is solid because of its shape, design, and performance. It can handle big snow while also being playful and agile.
This is a balanced and sturdy ski that was intended to emulate elements from surfboard design in order to allow it to cut, carve, and coast across the snow. This is made possible by a softer design in the tip and tail construction that adds flexibility.
These skis feature a maple and paulownia wood core that keeps them lightweight, flexible and strong. In addition, they are soft and playful.
That playfulness means that even a small powder day can feel epic, and the Outline can easily transition from deep powder to more shallow conditions. This is a great ski if you're looking for something fun and easy that can crush pretty much anything downhill.
Pros:
Playful
Soft tips modeled after surfboard design
Lightweight and flexible
Cons:
Can chatter at high speeds
A little light to bust through serious crud
6. Best for Backcountry: La Sportiva Vapor Float
When the hunt for powder brings you outside of the resort and into the backcountry, you need skis that can live up to the task. The La Sportiva Vapor Float is one such ski.
These skis are fat, wide, and ultralight. That combination gives them the attributes needed for off-piste and touring conditions. These skis definitely fit the bill of ultralight downhill ski and are perfect for the backcountry.
The Vapor Floats feature a unique Kevlar core that eliminates common wood materials in favor of lighter construction. Carbon fiber reinforcements add to the strength and allow for plenty of flex and twist in both during downhill and uphill situations.
They are not a versatile resort wandering ski, but they will meet and exceed the needs of anyone venturing into the backcountry.
Pros:
Ultralight for a downhill ski
Excellent for the backcountry
Kevlar core
Carbon fiber reinforcements
Great performance uphill and downhill
Cons:
Expensive
Not a resort ski
7. Runner-up for Women: Icelantic Mystic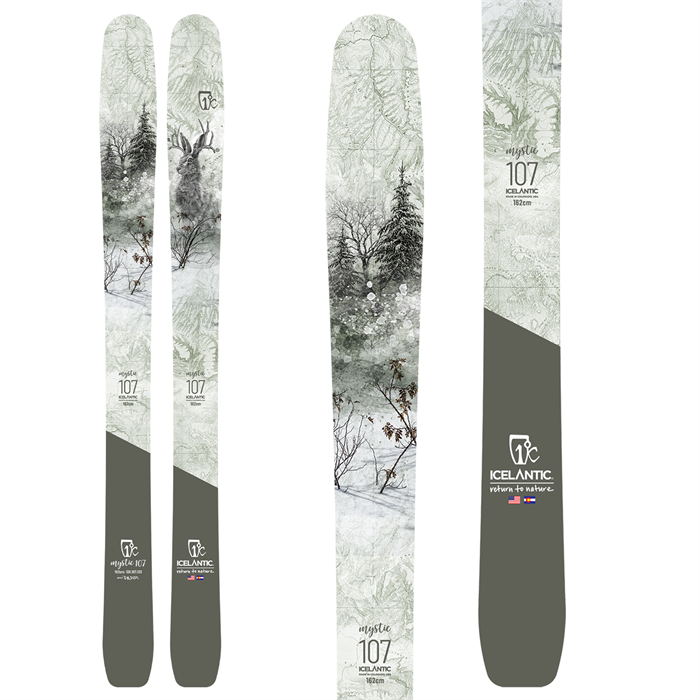 The Icelantic Mystic is a great women's downhill ski that can do well in the backcountry. This model is a dedicated alpine touring option from an extremely reputable brand.
The rockered profile and lightweight wood core construction make them ideal for the backcountry. They can easily handle long ascents in a capable fashion while also being reliable and more than fun on the way down.
Pros:
Great women's backcountry downhill ski
Fun rockered profile
Lightweight
Capable and reliable
Playful feel
Cons:
Not suited for resort skiing
8. Best for Big Mountain: Atomic Bent Chetler 120
If you live for the steep and the deep, the Atomic Bent Chetler (review) is the ski for you. These powder hunters are the 11th edition of this tried and true model from Atomic.
They are designed to float and carve through deep powder thanks to HRZN Tech tip and tail, which gives the ski and edge-to-edge rocker. This makes for great flotation at high speeds on steep lines and shows why these skis are such a popular downhill option.
Pros:
Big-mountain downhill ski
Floaty
Edge-to-edge rocker
Full sidewall
Cons:
Difficult to manage on hardpack
Not for beginners
How to Choose the Best Downhill Skis
Not sure how to narrow down the choices from the crowd? Take the factors below into account during your ski research journey.
Width
Width is the basic element that differentiates different types of skis from one another. While a more traditional, all-around ski can be somewhat narrow underfoot with a slightly wider tip and tail, downhill skis are going to be wider all-around to accommodate varying conditions.
Some downhill skis are exceptionally wide, giving them the ability to power through all conditions. If you want an all-mountain type of downhill ski, look for models with a 100mm width or more.
The increased width of skis allows them to float on the surface of deep snow more easily than narrower skis. This width also makes the skis heavier, but more surface area gives wider skis the ability to carve through deep snow.
Narrower skis will do better at high speeds and in conditions such as moguls and trees due to the better maneuverability they provide.
Modern downhill skis range in width beginning around 80mm (or just below) to 120mm and above. 130mm is really huge and would only be used in really monster powder days.
My personal preference is about a 95mm width underfoot. This is a personal choice, but is a good all-around width that gives you plenty of versatility on the mountain that can handle just about anything.
Shape
In the early days of skiing, all skis had a similar shape. They were as straight with a slightly upturned tip. That design lasted until the shaped ski revolution caught on a few decades ago. Today, you would be hard-pressed to find a straight ski.
Advancements in ski shape development has made a big difference in downhill skiing. The width, as described above, is very important to consider, but there are other aspects you must keep in mind as well. Rocker, or lifting the tip and tail above the ground level and out of contact with the snow, is another such consideration.
A ski's rocker is important because it further increases the ease in which a ski can be turned and maneuvered in powder conditions. The upturned tip and tail aid a skier's ability to easily and efficiently turn, even when the snow gets deep. All of the skis here have a pronounced rocker, with each one varying slightly.
Construction
Different brands of skis are constructed with different materials. There isn't a downhill-specific type of construction that you should be on the lookout for, but you do want to make sure that any downhill ski you purchase is made out of quality materials.
All skis feature multi-layer construction that usually incorporates materials such as a wood core, lightweight metal layers, fiberglass, or any combination of these.
A typical downhill ski will have a solid wood core construction. The type used varies from manufacturer to manufacturer and from ski to ski.
Lightweight-but-strong varieties of wood are often used to maximize performance, but skis typically incorporate many different wood types into their design. That includes balsa, pine, poplar, Koruba, and maple.
Metal layering is also typically included in ski construction, as it can add a lot of strength and stability to the product. Carbon is commonly used as a layer, as is Titanal (a carbon-based sheet metal). The types of materials used will vary. Just be sure that the brand you buy utilizes premium materials in their products.
Weight
Weight comes into play if you are considering any backcountry skiing or want extra stability at high speeds. Backcountry skiers will want to shed pounds in order to better suit the style and a lighter ski is a more apt option.
If you stay at the resort and love to ski fast, you might want a heavier ski that will allow you to really cruise and stay in control when your speed is up.
Always take your body weight into consideration when picking out ski weight. A smaller skier might not want a huge, burly ski, while a large skier will need a wide ski to effectively navigate powder conditions. There is plenty of variation in ski size, but heavier skis are usually better for heavier skiers and vice versa.
Useful Tips & Resources
Downhill skiing means you'll experience different conditions and skiing in deep snow is a truly unique experience. If you've experienced a powder day this year, you know it's what most skiers dream about.
However, it is not easy to master. Many skiers who have never skied powder before can struggle on their first attempt. Here are some tips for skiing powder that can help you out, regardless of your current ability.
Skiing is also a workout. A few runs in fresh snow can leave even mid-season skiers with sore legs and burning lungs. The hard work is more than worth it when you get to experience fresh turns all day, but if you are not prepared and in shape, big downhill runs can often lead to a shortened day due to fatigue or exhaustion.
Here are a few exercises that can help you stay in shape all year round and keep you powering through powder when the time comes.
Final Thoughts
In my opinion, there is nothing quite like downhill skiing. I am always happy to ski under any condition, but the joy felt after one run downhill is what I live for.
I know many other skiers feel similar and would tell you a tale or two about epic days involving downhill skiing. This passion has caused many of us to spend years in the mountains on the hunt for fresh snow.
Can you remember your favorite downhill day of all time? Where was it? How much did it snow? Let us know in the comments below!