K2 is a good ski brand with many high-quality skis and other equipment available to skiers of all types. The brand has been around for a long time and is one of the most recognizable names in the skiing world.
My name is Christine, and I love everything about skiing. I've used many different brands of skis and skiing equipment over the years and have been a fan of K2 for a long time. I know through first-hand experience how this brand stacks up.
This post will explore if K2 is a good ski brand. I'll explain why I think K2 is one of the top skiing brands out there and give you some other important information to consider if you are thinking about choosing the brand for skis or other equipment.
Let's dig in.
Key Takeaways
K2 is one of the top skiing brands in the game and has been for decades. The brand makes some of the best skis you can find and has a wide selection of options to meet the needs of all kinds of skiers.
This brand has been around for a long time and is one of the most recognizable names in the ski industry. It makes many great ski models but also delivers a lot of other equipment that is high-quality.
Some people think the quality of K2 skis and equipment has decreased in recent years, but I disagree. I've only had good experiences with all the K2 skis and other equipment I've used.
Is K2 a Good Ski Brand?
K2 is a great ski brand, and it's one of my personal favorites. The brand has been pumping out high-quality skis and other equipment for years and always delivers when it comes to performance and reliability.
K2 offers a range of different skis, equipment, and apparel for all types of skiers. The wide selection that the brand provides makes them worth exploring, but the quality of everything makes them a trusted brand.
This is also one of the brands that have been around for a really long time. That leads to brand recognition and expectation for excellence that keeps K2 honest. The result is excellent equipment that is effective in the snow.
One key to being such a solid brand is that K2 has been around since the 1960s. The company has had a long time to innovate and develop more and more equipment that skiers and snowboarders love.
If you want to use skis that you can count on in a variety of situations, K2 is definitely recommended. I've never had a bad experience with K2 skis, and you can find a model to meet any needs you might have.
K2 Skis
There is a wide range of K2 skis to explore in the brand's current lineup. Whether you are a man, woman, or child, they have something for everyone.
The Mindbender series of skis is one of the most popular recent models. This comes in various sizes and is available for men and women. The Mindbender is versatile and fun, making it one of the most popular skis K2 offers currently. 
The Reckoner is another excellent option in the current lineup that is built for deep powder and ready for action. This is the model to check out if you want to float on the deep stuff.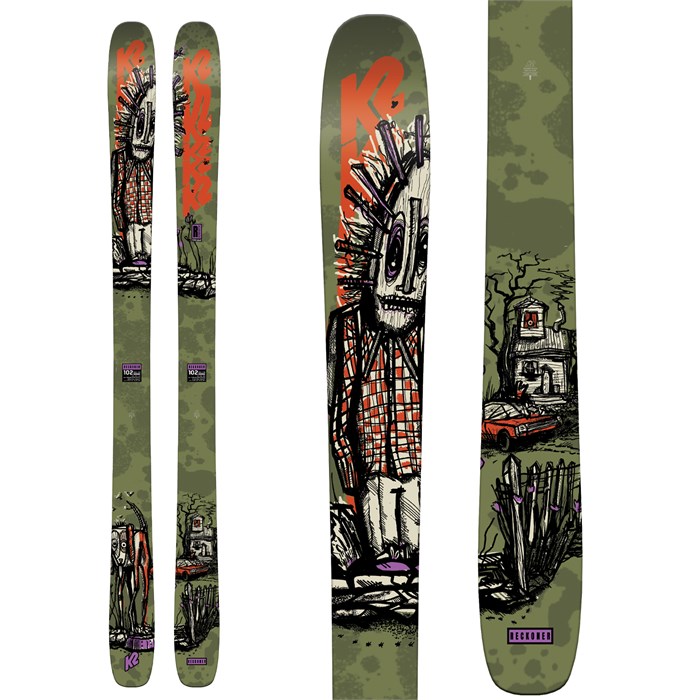 K2 Skis Older Models
With nearly 70 years of making skis, K2 has a number of older models with near legendary status. Some of these older skis are difficult to find, but if you have some in your closet or can find them used, you're in luck.
One of the skis that put K2 on the map was the Comp. This model came out decades ago but featured the iconic red, white, and blue stripes. K2 issued a remake of these in 2015, but they are still hard to find.
The K2 Extreme was another older model that was hyped and popular when it came out in the 1990s. This was one of the first true big-mountain style skis that could dominate difficult terrain.
FAQs
Here are a few quick answers to some of the most commonly asked questions related to K2 skis.
What are K2 skis known for?
K2 is known for manufacturing high-quality skis and other apparel designed for performance and reliability. The brand is also known for having a long-standing history in the ski industry while staying committed to quality the entire time.
Are K2 skis American made?
K2 skis are American-made, with many of the brand's skis being made and manufactured in Washington state. Some of the apparel they sell is made or sourced in China and other countries, but most of its skis and snowboards are made in America.
Who owns K2 skis?
The K2 brand is owned by a larger corporation called Kohlberg and Company. But the skis and snowboards the company manufactures are still under the banner of K2 Sports. The brand started as a small company in the 1960s but has grown immensely.
Final Thoughts
K2 is one of the top ski industry brands and has been for a long time. The company manufactures excellent skis for men, women, and children and offers a variety of other equipment and apparel.
Have you ever used K2 skis? What model did you choose and why? Let me know in the comments below.